As someone who reads quite a bit, sometimes even on the computer, but isn't always at the same computer, a self-hosted e-book reader sounds like a great idea
Recently the developer of LibreRead contacted me, asking me to check out his application. Well, and here we are.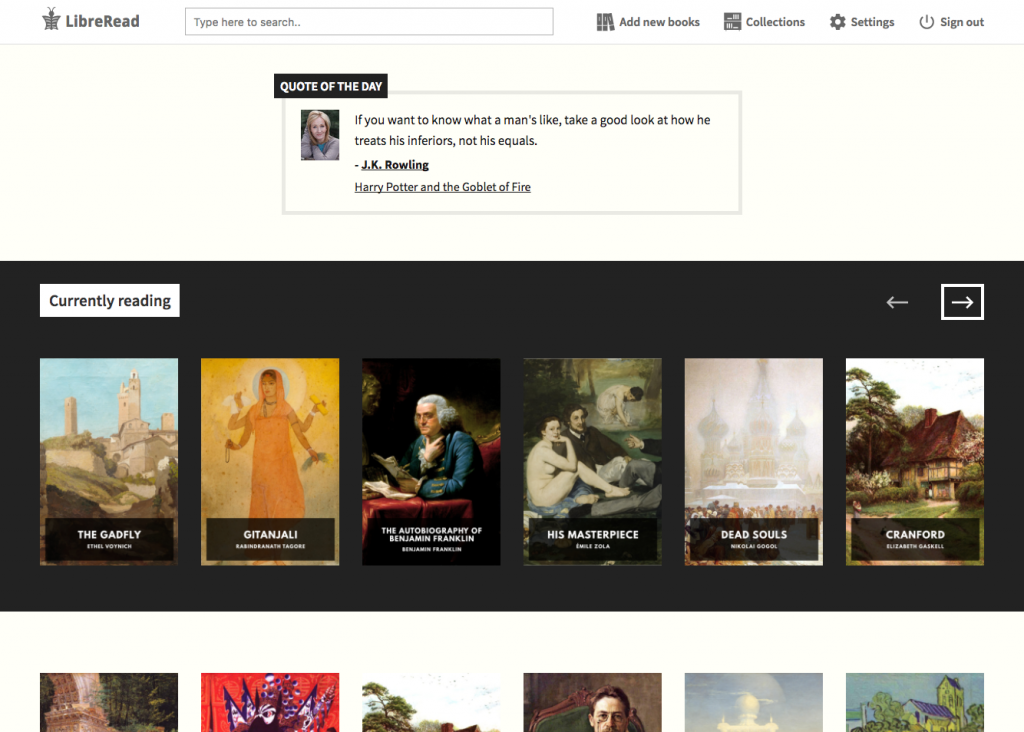 In a nutshell
LibreRead is a lightweight, self-hosted e-book reader. Install it, upload your books and read away.
Installation: [rating=5]
Price: [rating=5]
What it does
LibreRead sets up an environment that lets you upload your books to your server, then allows you to read them there.
The features are sparse, but then again, how many features do you really need when reading a book?
The features LibreRead brings to the table are all quite useful: you can read both PDF and EPUB formats, you get a list of not only your uploaded books but also of those you are currently reading. Also, of course, reading positions are remembered.
The whole thing is responsive, meaning you can use it not just on your massive computer screen but also on your tiny phone. Which is nice, because that way you don't actually need to use syncing services for your locally installed e-book readers. The downside, of course, is that you'll need a connection to the web to read your books. Nowadays rarely a deal-breaker, but I still should mention it.
LibreRead also boasts a full-text search and annotations. So, go ahead and mark your favourite quotes. Like so:

Then delete them and use full-text search to find them again!
The settings are rather bare-bone, allowing you to merely change the e-mail address associated with the account or change the password. Also, LibreRead is currently a single-user application, but according to comments on their GitHub page, multi-user support is in the works.
As a little extra, unnecessary but nice, LibreRead also incorporates a Quote of the Day. To, you know, inspire and all that.
Books uploaded, by the way, can be downloaded again as well. So this might also be a good place to store your e-book library.
All in all, LibreRead is a clean, no bullshit e-book reader and collection software for your own server.
Installation
Installation is very easy, but you do need Docker and Docker Compose installed on your system. Which, in itself, isn't rocket science either. So you'll be fine.
The only other things you'll need before installing is a domain on which LibreRead will live at and credentials for an SMTP server, in order to send out the confirmation mail when setting up your account (which, by the way, isn't a necessity – while installing I skipped that part, and while I, naturally, didn't receive a confirmation mail, I was still able to log in. Beware, though: I guess if I ever forget my password, I won't have any way to have it reset, unless I start rummaging about in the database, which, I suspect, would lead me to trash the whole thing rather than find what I'm looking for. So, I hope I won't ever forget my password).
To install, log into your server via SSH, then run a couple commands as detailed on their installation page.
The whole thing is rather painless and after a couple of minutes, you'll be ready to open up the login page on your browser at the domain you specified during the install. Sign-up, log in and that's it! LibreRead is all installed.
If there's one thing I'd have to criticize at all, it's the documentation, which could be a bit more extensive. But I'm sure that will happen over time.
Price
LibreRead is open-source and free to use, but you can donate to developer Nirmal Almara, for example on their Patreon.